I'm all things to all people. But most of all, I'm something else entirely. That's my usual, lazy way of describing myself.
I grew up a weird, nerdy tom boy in the middle of nowhere about an hour north of Seattle, WA, perpetually trying to be invisible because I couldn't figure out how to fake normal. In 7th grade someone finally let me watch The Rocky Horror Picture Show over a long weekend and it was all over. I realized that someone else had embraced their weirdness so much as to make a weird movie where people dressed weird, had weird sex, were blatantly sexy, blurred gender lines, and hell, I even knew from first seeing it on tv listings that obviously it was okay enough that it was occasionally on television.
Who cared if they were aliens. I would be Janet. I came back to school with my hair dyed, in a corset & tons of fishnet & glitter, and it was all downhill from there. By my senior year I was an ASB officer MCing assemblies in vinyl pants with cherry red hair & leading the marching band with my whistle attached to a spiked collar. But, I always liked to try on new personalities, depending on my mood or surroundings. Sometimes I could be found with *almost* natural shades of red hair, jeans, and a letterman's jacket. To this day, you never know what you're going to get. Josephine? Josie? Joe?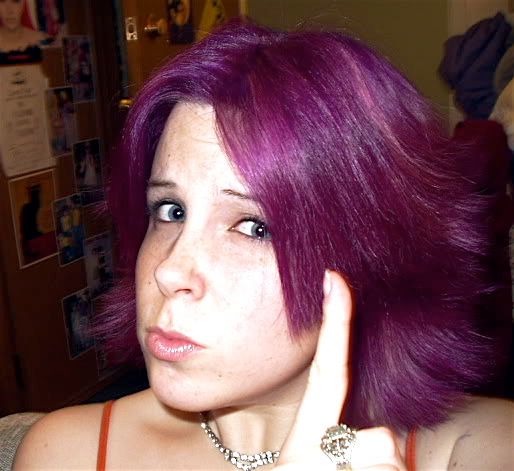 Aww, it's college Josie!
I went on to get my degree in Communication with a minor in English Writing at Pacific Lutheran University in Tacoma, WA, where by the time I finished my public relations emphasis I had a real sinking feeling that while I loved studying this stuff & loved applying it to my own interactions, I hated the idea of being stuck in a office, chained to a desk, with a "normal" hair color & my job taking over my life.
Hard at "work" at my old desk job.
But, I tried anyway, even more scared of being without income & health insurance after a rash of female health problems. Eventually I met & fell in with some urban circus folk, and around the same time I met & fell in love with a guy that subscribed to anarchism. The office became a prison. I married the anarchist, quit my job, & ran off to Tokyo with him, but sadly he was also bipolar, suicidal, & abusive. Five months later I was unemployed, mid-divorce, splitting my time between my Mom's loft & my Dad's spare room.
This is where I could throw out a well known quote, something about what losing everything makes you.
Looking for work, the idea of another cubicle prison broke my heart. I didn't want to spend my life sitting down. After all the sexual suppression I experienced in my marriage I was especially wrapped up in sexual adventurism. I hung out with burlesque performers. And there was the Craigslist ad looking for exotic dancers, no experience necessary, auditions on Wednesdays. That was almost three years ago. I've been stripping ever since.
May not have gotten drunk & dressed up in his clothes on the first date.
Shortly after I started dancing, I met Beau, who was living with his cousin who was then my dearest male friend. Despite multiple attempts to resist the charms of this creepy, younger man, we've been pretty much inseparable since May 14th or 15th (depending on which one of us you ask & some arguing about when that after-hours party started).
We lived together in Seattle until we fell in love with Los Angeles. For his industry (film) & mine (adult) it made more sense to be there, as soon as our lease was up in March '12 we packed up & ran. Currently, Beau is there working various film jobs as a freelancer, mostly as a 2nd Assistant Director or doing editing/coloring footage (you can bother him
here
).
Me & mom in July '12.
My mother was diagnosed with stage four ovarian cancer on August 1st. I've been back in Washington taking care of her almost ever since. Part of me coping & dealing with all this, is what you see here. Writing & maintaining this blog is part of how I keep myself sane.
So, here we are. Thanks for reading.
If you'd like to support my little blogity blog, please consider joining with Google Friend Connect, following with Bloglovin', sharing links to my blog on your social networking sites, or keeping an eye out for when I start to offer sponsor opportunities which will give me money to make this thing pretty & more involved.
Again, thank you so much for being here. It means a lot to be that people actually read & enjoy what I have to say & share here. I check the views allllllllllllll the damn time & each & every one gives me the warm fuzzies. <3